Entry visas for Non-ECOWAS visitors are issued at the port of entry for 30 days.
Any period of stay by Non-ECOWAS visitors in Nigeria beyond fifty-six (56) days aggregate in a year is an "overstay".
Extending visa up to 56 days is FREE
Extending your visa from 30 days to 56 days is straight forward and FREE! Don't be fooled into paying for this extension. Simply take your passport together with a letter of request to extend the visa to the airport and visit the Nigerian Immigration Services desk where you will be able to request the extension. They will stamp your passport and return it to you – free of charge!
Extending visa beyond 56 days
Non-ECOWAS visas can be extended up to 365 days. Any Non-ECOWAS visitor who intends to stay in Nigeria or who has stayed for a period exceeding 56 days but not exceeding ninety (90) days aggregate shall pay an extension fee of $200 (two hundred dollars).
Visa extensions from 91 days, but not exceeding 180 days, costs $1000 (Naira equivalent).
Visa extensions from 181 days, but not exceeding 365 days costs $2000 (Naira equivalent).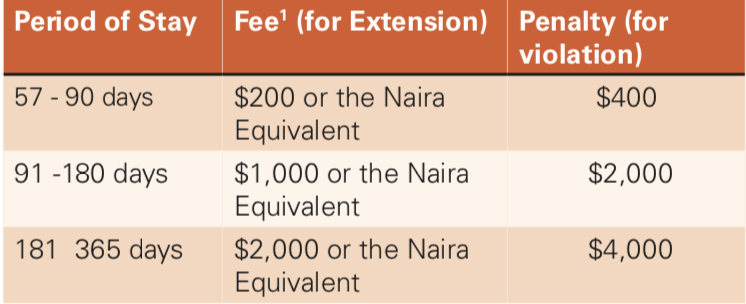 Additional visa extensions (beyond 90 days) are obtained from Nigeria Immigration Services (NIS) through e-pass application. Failure to apply for visa extension will result in penalties as indicated above.
Obtaining a visa extension from NIS is a protracted and frustrating experience and it can be tempting to use touts or agents to facilitate processing. However, it is possible to do it yourself and avoid a processing fee.
You will need to pay a deposit for an e-pass at Sterling Bank in Naira. The visa extension costs $200 (you pay the Naira equivalent in cash). There is an additional bank transaction fee of N8000. Not all Sterling Banks process e-passes, so it is best to check with the branch ahead of time. You can pay the deposit for an e-pass at the Nigerian Immigration Service office at the airport.
You will need to obtain the following receipts:
Data capture form from Sterling Bank confirming your immigration details have been submitted successfully.
Deposit slip
E-Pass collection receipt
NIS E-Pass Receipt and temporary card
Nigerian Immigration E-Pass Application Form.
You will need to take these receipts with your passport, and a copy of your local company letter (your host) requesting a visa extension to the Immigrations Services Office in Alagbon Close, Ikoyi.
Before you enter the compound you will be offered assistance in exchange for a processing fee. Fee charged is likely to be N40,000 (negotiable), but you can ignore them.
On arrival you will be invited to pay a "processing fee" to speed up the application, please be aware this is not an official processing fee, so it is not compulsory. No receipt will be provided for this fee.
If you prefer to deal with your application yourself you will need to make four copies of your E-Pass application / receipts, invitation to extend letter, passport data and visa page. You can take photocopies at the site for N20 per copy.
Take the copies back to the officials in Room 5 where your documents will be initialed before processing. Only 2 people can initial your documents, so don't leave it until the last minute as they may not be in the office.
Once initialed your documents will be passed to the Deputy Comptroller of Immigration for approval and the issue of the visa stamp.
You will need to retain the E-Pass receipt to show, if asked, on exit as you leave the country.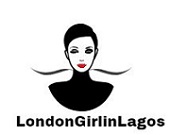 Since arriving in Lagos in August 2017, advice has come from several sources. Some recommendations are based on errors made through lack of experience living and working in this environment.
Disclaimer
The information provided by LondonGirlinLagos.com is based on information provided or obtained online. LondonGirlinLagos.com does not endorse any services or products advertised. LondonGirlinLagos.com cannot accept any liability for damages directly or indirectly resulting from any services rendered or information given.